IT-vendors often have a strong dominant position in their relationship with organisations and switching between IT-service providers involves high switching costs such as changing interfaces, reorganising processes, training people, and accelerated depreciation. In addition to direct costs, there is a risk of switching between service providers since a loss of production, sales and data may occur in case of failure. Therefore, these service providers can be seen as strategic providers which can have a high impact on the risks and costs of organisations (Kraljic, 1983). Kraljic indicates that a partnership may be the most appropriate strategy to mitigate these risks.
Many articles have focused on Supplier Relationship Management (SRM) in recent years, defined as "a process involving preferred suppliers and managed and seeking new suppliers while reducing costs" (Choy et al., 2003, p. 2). These articles offer many SRM strategy tools but there is a lack SRM methods focusing on daily practice. In this article, the Qando Supplier Engagement and Communication Model (SQEM model) is presented and explained; this model can be used to implement a SRM strategy in your organisation.
SRM
SRM provides procurement predictability, repeatability and it extracts the benefits of supplier partnerships as it focuses on improving and intensifying the relationship between the organisation and the supplier. This can increase innovation and operational performance. In addition, risks and costs are managed and limited; and as relationships are intensified, better agreements can be made. Furthermore, this leads to improved communication as well which ensures better coordination of activities. When the relationship between the supplier and organisation is improved, activities and issues will be discussed at an earlier stage.
According to the SRM principle, it is important to focus on interactions and relationships with suppliers that deliver high value. Furthermore, not only value but also the degree of criticism must be taken into account to define strategic suppliers. This is called SSR: Strategic Supplier Relationship Management. Qando has developed a model for SSR: the QSEC model.
QSEC Model
The Qando Supplier Engagement and Communication Model aims to increase the added value of suppliers and to improve the relationship and associated communication between the organisation and suppliers.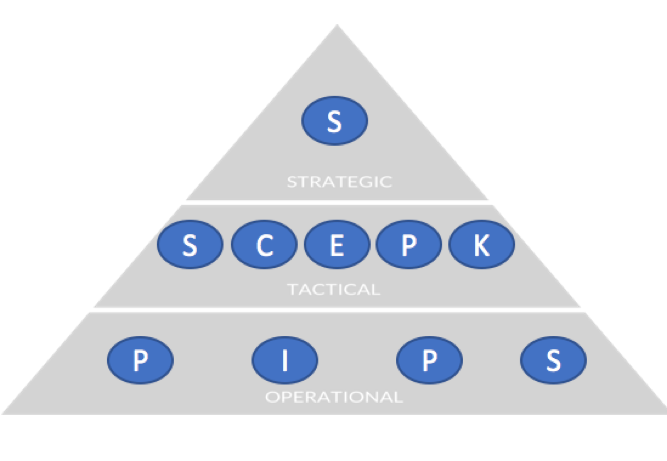 Image: Qando Supplier Engagement & Communication Model
The QSEC model consists of three levels of engagement and communication with suppliers: a strategic, tactical and operational level. It is important that the Engagement & Communication model is actively implemented at all three levels because of their interdependencies.
1. Strategic level
The strategic level consists of part S, this stands for strategic alignment. This alignment will have to be discussed in a formal strategic meeting, which should take place periodically, but usually twice a year. This meeting should consist of at least the following topics:
Long-term vision
Product and service development
Innovation
Finance
Procurement
Performance and trends
Portfolio and program management
Tactical dashboard review
2. Tactical level
The tactical level consists of the components S, C, E, P and K. These components will be covered as topics in two meetings:
Commercial alignment
S = Sourcing
C = Contract Management
E = Escalations and dispute resolution
P = Performance management
Exchange of knowledge
3. Operational level
The operational level consists of the components P, I, P and S. These components should be discussed as topics in weekly/monthly meetings and represent:
P = Planning Management
I = Invoices / Payments
P = Purchase to Pay (P2P)
S = Service & Support
All subjects have at least one Business Relationship Owner and an Executive Sponsor from the organisation and the supplier. Strategic alignment, commercial alignment, exchange of knowledge and operational alignment will be part of the meeting agenda with related topics. The agenda is complemented by upcoming events, decisions and actions.
In advance, the supplier will decide how often which meeting will take place, who is the chairman, secretary and participants of the meeting. Those persons will be listed with their name, contact details and role. This enables a smooth communication since each party knows who the responsible contact person for what topic. Of course, relevant topics related to your organisation, industry or sector may still be added.
Other factors
In this blog, we restrict ourselves to the formal establishment of a communication structure for SRM. The extent to which the collaboration is successful is also determined by other factors such as the level of trust and openness between the two parties, the knowledge and skills of the employees and the level of importance parties perceive each other to have.
Conclusion
Do you need help with setting up and completing a SRM model to improve your processes? Or do you have any further questions about the QSEC model? Please feel free to contact Qando.